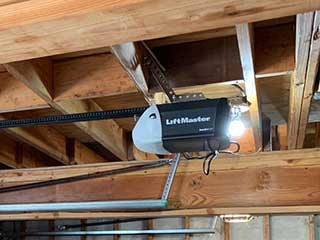 You come to use your garage door opener a lot every time you open the system. Naturally, after a while, some wear and tear can cause various problems to begin to show. With LiftMaster garage door openers, you get a very high-quality motor and control system for the door. But some troubles can still occur. With our same day opener troubleshooting and repair services, you've got solutions available any day of the week. LiftMaster openers make using your Woodbridge garage door a joy instead of a chore. So when problems arise, you'll want them solved fast, and preferably at a low cost too.
Opener Remote Not Working
While it can seem like a small problem, sometimes the LiftMaster garage door opener remote failing to work can stem from bigger issues. You can try reprogramming the opener remote and use the troubleshooting lights to source out the problem. But if it's more of a complex issue, you'll need some opener troubleshooting carried out. Even with LiftMaster garage door openers, the logic board can suffer various issues. Though rare, it's still possible, and this type of problem will require help from a garage door opener repairman in your area. For Woodbridge and all surrounding regions, our professional technicians provide same-day emergency troubleshooting to fix all sorts of problems. Wiring issues inside the opener can make the problem seem like it's the remote. But it's good to check the whole setup to rule out minor issues.
Garage Door Sensors Misaligned
If you see your door reversing when it's supposed to close, your LiftMaster opener sensors might have gotten misaligned. Sometimes it's their wiring that tore or frayed, making the photo eyes fail to work properly. But other times the garage door opener sensors become misaligned and experience a false-positive. Meaning, they recognize an obstacle even though nothing is there. This will make the garage door reverse instead of close, and will create an annoying issue for you to deal with. A quick call to our Woodbridge LiftMaster garage door opener technicians in the area will sort the problem out on that same day. Our commitment to complete customer satisfaction lets us provide homeowners with the best service, day after day.
Cheap LiftMaster Garage Door Opener Repairs in Woodbridge
When an unexpected problem occurs, you don't want to have to spend a lot of money just to fix it. Well, then good news! Our affordable same-day LiftMaster opener troubleshooting services provide quick and cheap solutions to all manner of problems. From replacing wires to broken motor gears, chains, and other hardware opener parts. You can get quality, reliable solutions without spending a fortune on some unexpected malfunction. Got an issue with something? Call to get the best LiftMaster garage door opener repairs near Woodbridge on weekends or weekdays!