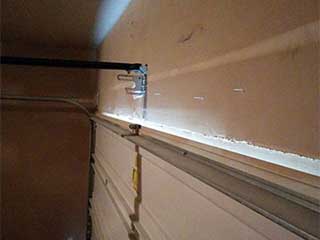 What Makes Them Important?
Without the springs, whichever type they may be, your garage door wouldn't be going anywhere. While the opener may give power to the operation, the stored energy in the springs is what gets the door off the ground. If the springs are broken, you won't be going anywhere!
Torsion vs. Extension
There are two types of springs, and while they both work by storing tension to be used as energy to lift the door, they do so in differing ways. Torsion springs twist up tightly to create tension, whereas extension springs are stretched out to do so. The latter are becoming less popular by professionals due to being more dangerous, as well as more likely to break. The constant strain of being pulled out makes them wear down faster, and when they break they tend to snap and bounce violently around, potentially causing damage. No matter the type, it's dangerous in general to try to adjust or replace the springs on your own, which is why it's best to let a professional take care of it! Otherwise, you run the risk of the springs being incorrectly put in and causing troubles for your door, as well as possibly making it a hazard if it isn't working as it should.
We've Got It All Covered
Whether your springs need some adjustments, or need to be replaced altogether, we can take care of it all! Our professionals are knowledgeable in tension and extension springs, so we'll get them back in shape before you know it! We'll also check all the other springs of your door while we're at it to ensure that none of them are too worn down and also in need of replacement. If you've noticed your door acting up, or that it doesn't want to go anywhere at all, it's time to call! It will be working like new again in no time.
Schedule Your Appointment Today
Call Garage Door Repair Woodbridge now for all your garage door springs' needs!
Need more? We also provide:
Belt Drive Opener Installation
Roll up Garage Door Maintenance
Garage Door Torsion Spring Replacement