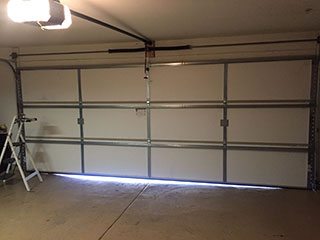 Why Is It Helpful?
Rather than wait for a sudden break to happen that leaves you and your door stuck when you have things to do, be proactive about the situation! Periodic maintenance can help catch signs of issues before they occur so you can get them taken care of now rather than worry about them unexpectedly in the future. It also keeps your door running easily and swiftly and can help improve the lifespan of it and its parts overall!
We'll Take Care Of Tension Adjustments
The tension of your garage door is a delicate balance, as too much or too little can negatively affect its ability to work well. If the tension is too high, it won't be able to close well and leaves you at risk by making it easier for burglars and otherwise to get inside. On the other hand, loose tension makes the system be off balance, and this strains the springs and makes them wear down far faster. We can get it adjusted before you know it!
Let Your Door Move More Easily
One of our professionals would be happy to tend to lubricating your door's various parts to help keep them from getting too brittle and breaking easily, as well as allowing your door to slide easily along the track. Springs are especially important to keep as elastic as possible, otherwise they're more likely to snap and leave you stuck.
Give Your Door A Checkup
Just like you need regular doctor checkups to keep your body in good shape, your door and its system need to be looked at thoroughly by a professional every now and then! We'll inspect everything for signs of wear, rusting, and any other potential issues in the making and help take care of them in no time. Your door will be able to work smoother and it decreases the chance of it suddenly breaking down!
Don't Wait Any Longer
Contact Garage Door Repair Woodbridge today for all your door's needs!
We also offer the following:
Oil Tempered Torsion Springs
Emergency Garage Door Services
Garage Door Safety Inspections
Opener Sensor Repair & Replacement