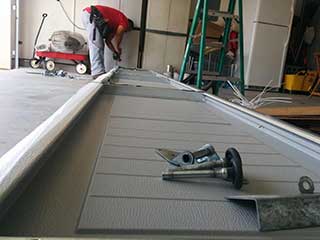 Take Care Of Your Door
We all understand wanting to avoid any more spending having to do with your home and instead trying to struggle along with a faulty garage door for as long as you can. However, this may simply cost you more with even worse problems in the long run! Continuing to use your door with parts that are in need of repairs or replacements creates strain on everything overall and will wear down other components faster, creating even bigger issues. It's best to get it all done now, rather than be surprised by your door being broken completely in the future!
We'll Take Care Of Your Rollers
If you've noticed that your door is slower than it used to be, or seems to drag along the track, the issue may be with its rollers. If they've grown too worn, or have rust accumulating on them, this can make it hard for your door to move as easily as it used to. Don't worry! We can safely open the track and remove the rollers to either repair them or replace any that are too far-gone to fix.
Are Your Panels Looking Worse than Usual?
Whether it was an accidental bump from the car or a bad storm, if your panels are cracked or broken entirely our team can give you a hand! It's not just an aesthetic problem either; using your door with busted panels will make it struggle and make the issue worse. We can easily repair the panel or replace it with the perfect size and color as needed!
Fast And Easy Spring Replacement
Torsion or extension, our experts can replace either before you know it! If your door has been struggling to open lately, the problem likely lies with the springs. Should they break, your door won't be going anywhere! That's why we're here to handle it for you right away.
Don't Wait Much Longer
Contact Garage Door Repair Woodbridge now for any of your garage door's needs! You'll be glad that you did.
When it comes to your door, we don't settle! We also offer:
Garage Door Off Track Repair
Garage Door Tune Up Services
Screw Drive Opener Replacement
Garage Door Extension Spring Replacement